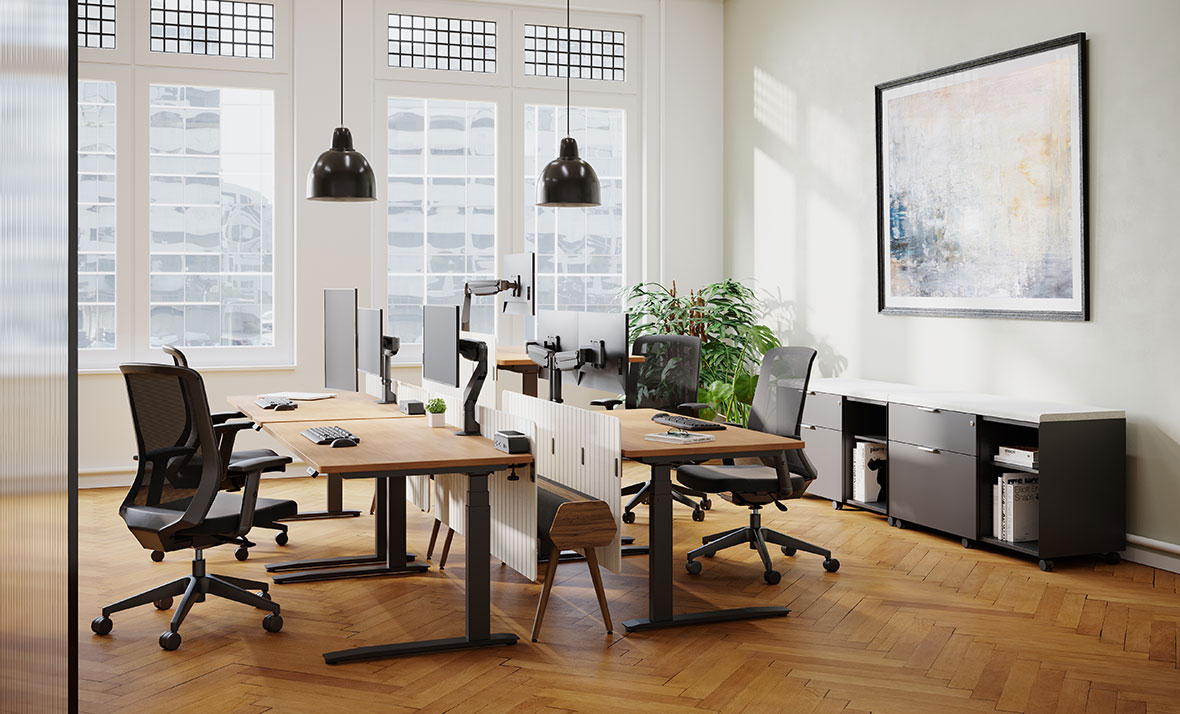 When it comes to work, most of us have become adaptation experts. Whether it's a shared workspace, a work-from-home environment, or a dedicated pre-designed space, we often make shifts and adjustments throughout the day to satisfy various needs. For instance, we may pull up a chair to a table and discover we don't have a nearby power outlet. Or, we may open our laptops in a space with inadequate or harsh lighting. Even our assigned and pre-designed workspaces require us to move around to avoid strain and be more productive.
We inherently adapt to our working environment the best we can. We move our bodies and things around to find the best solution and the greatest comfort. These adaptations drain our energy and disrupt our activities, often leaving us tired, distracted, and longing for a better workspace. We may piecemeal together solutions attempting to feel better and be more productive. But without a cohesive and holistic set of workplace tools, our efforts may not lead to cumulative improvements. A 360 Workspace design can make a significant difference in our wellbeing. So what is a 360 Workspace? And how does it contribute to a better workspace? Let's find out.
What Makes a Great Workspace?
First, let's look at the factors that contribute to a healthy and productive workspace.
Flexibility
A flexible workspace allows us to work how we need to, complete tasks efficiently, and collaborate when necessary.
Comfort & Ergonomics
An ergonomic workspace takes the strain off our bodies and our senses so that we limit distractions and feel rejuvenated.
Movement
A great workspace takes us out of a fixed position and allows us to move around in a way that reduces strain and fatigue and promotes healthy activity.
Integration with Technology
A great workplace also integrates technology, power, accessories and gadgets to create a fluid and efficient workspace for all our tasks.
What is a "360 Workspace"?
A "360 workspace" supports how people work and leads to greater productivity and work satisfaction by considering technology, ergonomics, how people work, and the environment. 360 workplace design empowers workers through a fully functional workspace — a 360 workspace that limits distraction and provides the ergonomic support, flexibility, movement, and technology integrations workers need to do their best thinking and creating.
According to "The Employee Experience Advantage," the physical workspace makes up 30% of the employee experience. Putting you first is an empowering move. With choice and control of your environment, you can increase personal satisfaction, happiness, and, ultimately, productivity. A recent Harvard Business Review article states that employees, by a margin of 42% to 28%, would rather be able to personalize their work environment than opt for unlimited vacation. Amazingly, however, research shows that a whopping 25% of workers claim they do not have the appropriate tools to support their daily work.
How to Create A Fully Functional & Supportive 360 Workspace
Keeping in mind what makes a good workplace, here are six things to consider when planning a 360 Workspace for yourself and others. Each component supports individual work and the flexibility to be active and alter posture throughout the day.
1: Start with The Best Height Adjustable Desk
The desk is the foundation of any work environment. You can choose from mobile, adaptable, or stationary desking solutions. Let's assume you're looking for a stationary desk. A stationary desk that allows you to change posture throughout the day provides an optimal health experience. The best adjustable desks offer either a pneumatic or electric height adjustable desk option that's easy to use. The height-adjustable desk is the foundational piece of a 360 Workspace. Now, let's keep building.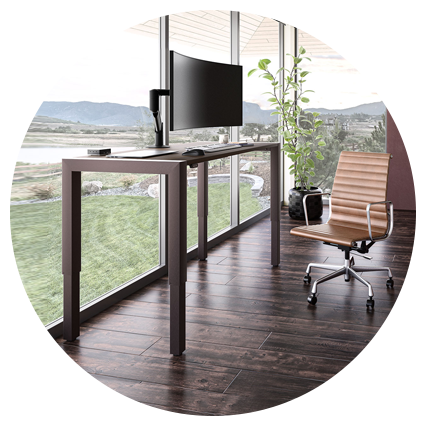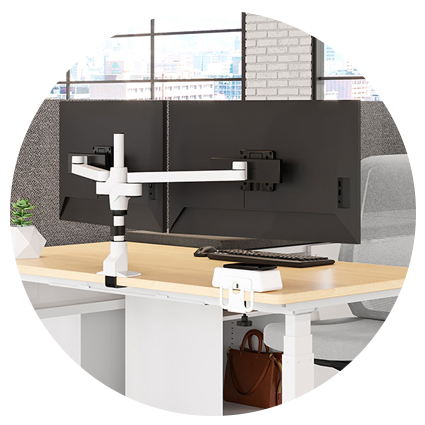 2: Determine Your Monitor Needs and Add Adjustable Monitor Arms
Depending on your type of work, you may need a large-scale, curved monitor or multiple screens. Whatever your choice, having an articulating monitor arm that can be adjusted appropriately to keep your eyes forward and posture optimized is critical. A recent study showed that 24% of workers who do not have flexible arms or adjustable monitors experience neck pain. The right monitor arm can alleviate neck pain and prevent additional issues and injuries.
3: Ensure You Have a Convenient Power Supply for your Workspace
We live in a connected, global community that often requires multiple devices that demand power. Having accessible power within arms' reach is not just convenient; it's a critical part of the optimal working experience. Desktop mounted power or integrated power caps for charging phones or computers are both convenient and necessary additions to your 360 Workspace.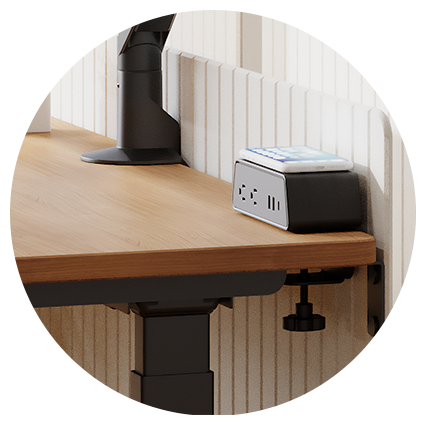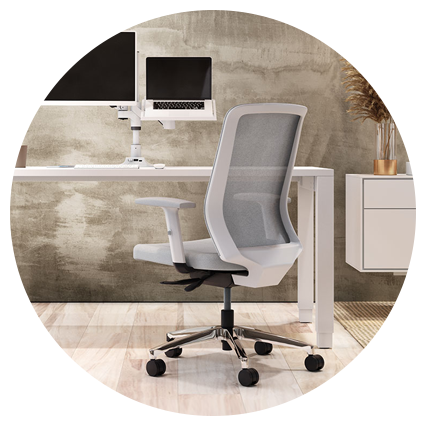 4: Find the Best Ergonomic Desk Chair
Proper, ergonomic seating may be one of the most critical assets in a powerful 360 Workspace. Simple adjustments to adhere to a variety of body types are optimal. For example, seat control with an adjustable seat pan allows both tall and petite workers to use the same chair and adjust it to their needs. Lumbar and neck support are also solid additions to a quality chair.
5: Choose Lighting for a Healthy Workspace
Task lighting may be one of the workspace's most overlooked but necessary components. Not every space we work in provides access to natural lighting, which is the optimal choice for workers' wellbeing. Overhead, fluorescent lighting in many work environments is not only jarring but can also be disturbing to the eyes. "Residential-like" lighting or lighting that cuts down the fluorescent content can create a more soothing environment and contribute to a healthier, less distracting environment.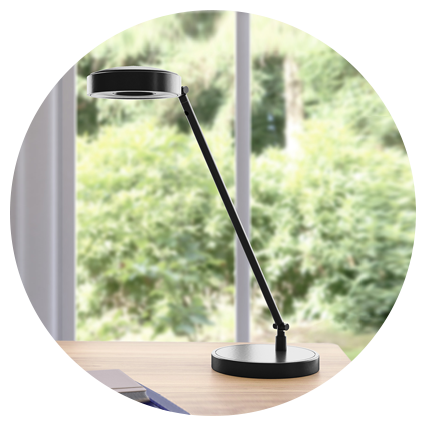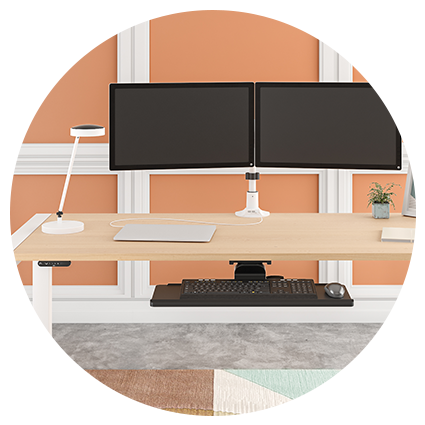 6: Manage and Control Your Accessories
From cable management to keyboard trays, many devices and add-ons can enhance the overall work experience in a 360 Workspace. Dual-purpose elements such as mobile peds that act as storage and impromptu seating are also thoughtful considerations.
Putting the Pieces Together to Create the Optimal 360 Workspace
As you can see, a 360 Workspace is more than a table and a chair. It is a fully immersive experience and environment that supports the way people work.
Versatility and flexibility in office design acknowledge that individual employees work differently and have different needs. Incorporating flexible design elements and products that promote a holistic 360 Workspace will improve overall worker adaptiveness and performance. A 360 workspace shows thoughtful care for each person's style while providing empowerment through choice and control. Ultimately, these choices lead to a happier, more productive worker.
Employers today cannot afford to compromise workspaces or ignore the tools workers want and need. For employees and those that work from home, investing in your comfort and wellbeing with a convenient elevated 360 Workspace is an investment that pays off. All workers, whether at home or in the office, deserve spaces that enhance their abilities.
HAT Collective can help you put the pieces together and create the perfect 360 Workplace. Please get in touch with us for more information or guidance on 360 Workspaces. And be sure to follow us on social media for more tips and inspiration.