How to Create A Fully Functional & Supportive 360 Workspace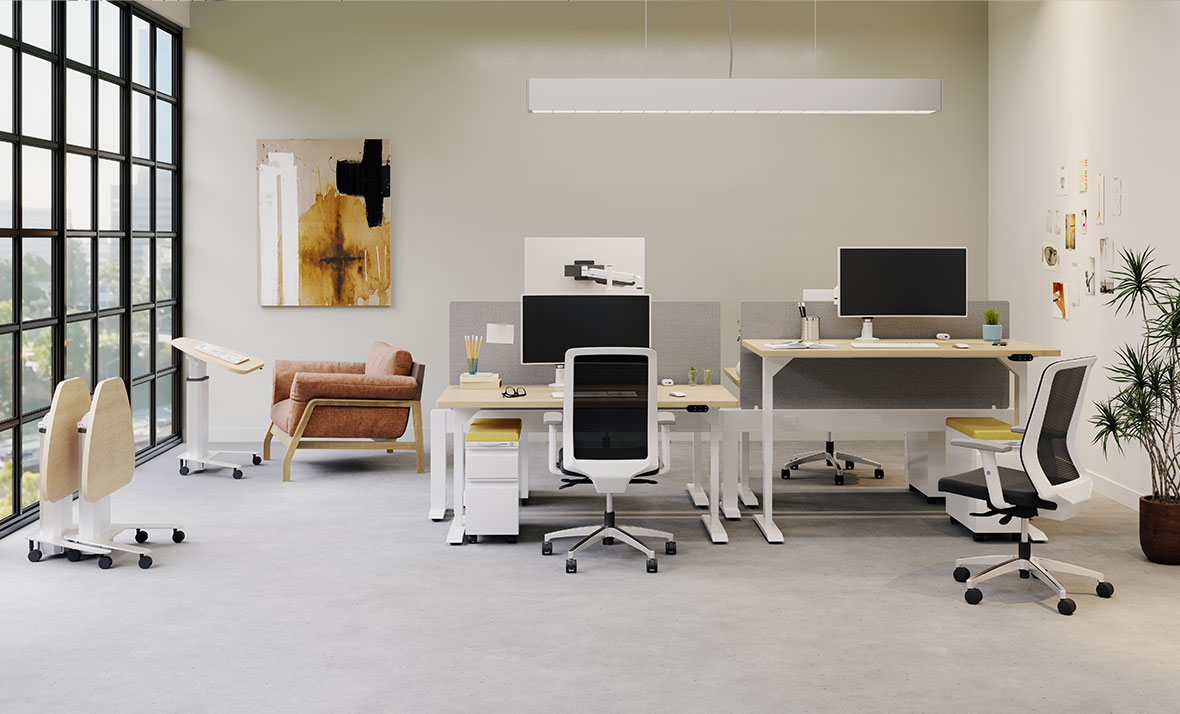 The desk is the foundation of any work environment. You can choose from mobile, adaptable, or stationary desking solutions. Let's assume you're looking for a stationary desk. A stationary desk that allows you to change posture throughout the day provides an optimal health experience. The best adjustable desks offer either a pneumatic or electric height adjustable desk option that's easy to use. The height-adjustable desk is the foundational piece of a 360 Workspace. Now, let's keep building.
Depending on your type of work, you may need a large-scale, curved monitor or multiple screens. Whatever your choice, having an articulating monitor arm that can be adjusted appropriately to keep your eyes forward and posture optimized is critical. A recent study showed that 24% of workers who do not have flexible arms or adjustable monitors experience neck pain. The right monitor arm can alleviate neck pain and prevent additional issues and injuries.
We live in a connected, global community that often requires multiple devices that demand power. Having accessible power within arms' reach is not just convenient; it's a critical part of the optimal working experience. Desktop mounted power or integrated power caps for charging phones or computers are both convenient and necessary additions to your 360 Workspace.
Proper, ergonomic seating may be one of the most critical assets in a powerful 360 Workspace. Simple adjustments to adhere to a variety of body types are optimal. For example, seat control with an adjustable seat pan allows both tall and petite workers to use the same chair and adjust it to their needs. Lumbar and neck support are also solid additions to a quality chair.
Task lighting may be one of the workspace's most overlooked but necessary components. Not every space we work in provides access to natural lighting, which is the optimal choice for workers' wellbeing. Overhead, fluorescent lighting in many work environments is not only jarring but can also be disturbing to the eyes. "Residential-like" lighting or lighting that cuts down the fluorescent content can create a more soothing environment and contribute to a healthier, less distracting environment.
From cable management to keyboard trays, many devices and add-ons can enhance the overall work experience in a 360 Workspace. Dual-purpose elements such as mobile peds that act as storage and impromptu seating are also thoughtful considerations.